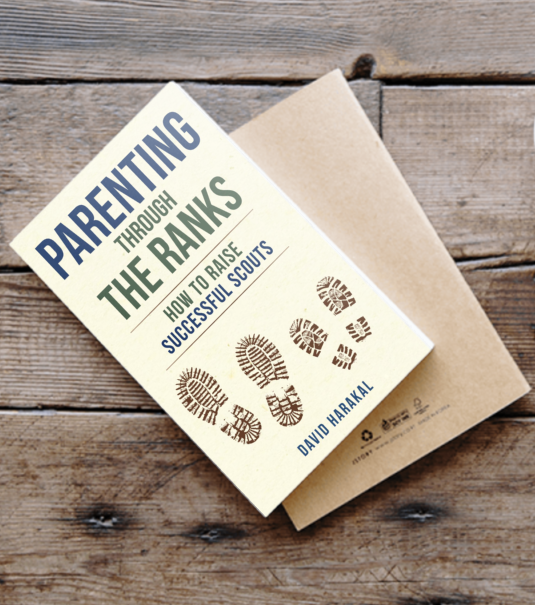 By David Harakal
Parenting Through the Ranks
Helps parents of children in scouts and guides make the most of their child's scouting opportunities
Longtime scouting leader David Harakal believes parents are the key to a child succeeding in their scouting experience. Through this book, he offers advice, experiential learning, and wisdom from having seen scouting as both parent and leader.
Cub Scouts, Boy Scouts, Scouts BSA, Trail Life, American Heritage Girls, Girl Scouts, and Girl Guides provide the world's best youth leadership training. Other resources exist to understand these programs. Harakal, however, focuses on how to parent, providing compelling advice that syncs up with the child's scouting stage. Through that advice, parents learn to harness the myriad scouting opportunities to help their child discover their unique gifts and talents. From helping conquer fears to finding new interests or hobbies to developing outdoor skills or even embarking on a career path, parents are crucial to the success of a child's scouting life.
Parenting Through the Ranks helps willing parents develop a better relationship with their children, setting up the family for positive and engaging teen years. With this book in hand, parents become facilitators and confidants in their child's scouting journey. As parents, being prepared is the best first step. The reward will be clear to see!

ABOUT THE Author
David Harakal
David has held Pack, Troop, Crew, District, and Council leadership roles, developed unit and district parent training materials, and created and taught parenting programs outside of scouting.
He was awarded the BSA Silver Beaver and Vale la Pena awards plus three President's Volunteer Service Awards.
Mr. Harakal and his wife have two grown, married children – one an Eagle Scout and OA Vigil member and the other a past Venture Crew president.
Somewhere between "What to Expect When You're Expecting" and "Don't Tell Me What To Do, Just Send Money," parents may feel overwhelmed by the plethora of after-school options for their kids. In the event that they and their children find their way into Scouting, or some other values-based Youth organization, David Harakal's book is an essential primer in how to make the most of the opportunities provided by such organizations. David's emphasis on the role of family in making the Scouting journey a success for the Scout, the family and the community is exactly what every Scouting parent needs to know BEFORE the journey begins. And this book will continue to be a valuable refence throughout the entire journey. If you and your child are looking at Scouts, or even if you are already involved, this book is a must-read."
– Bill Bryson, Past President, Far East Council, BSA; OA Vigil Honor; Silver Beaver and Asian-American Spirit of Scouting Award recipient; former Course Director Wood Badge and NYLT; currently serves on two council boards.
Comments? Questions? Suggestions?